Series: A Nation in the Balance, Part 1
Message: "A Time to Remember"
Sunday, May 29, 2016.  New Life Community Church, Monroe, Louisiana
This weekend is Memorial Day Weekend.  It is a time for remembering.  We are also beginning a series that will run this month called A NATION IN THE BALANCE.
I believe we are in a very important time in our national and cultural history.  It behooves us to take a moment to find out what God says about all this.  I was in a pastors meeting this past week and we all acknowledged that the old sound bites don't seem to apply these days.  We are all in uncharted waters politically, culturally, economically, in pretty much every way.
So, in the coming month, we are going to look at our world and ask God what He is doing and saying to us.  If we are called to make a difference in North Louisiana, we need to know the playing field.  If we are called to advance the Kingdom both personally and as a church, we need to know what we're up against.  We need to know the water we're swimming in.  So, during June, I and we will look at an incredible picture.  It is a snapshot at our country.  In the words of I Chronicles 12:32, we must be like sons of Issachar.
From the tribe of Issachar, there were 200 leaders of the tribe with their relatives. All these men understood the signs of the times and knew the best course for Israel to take. I Chronicles 12:32 (NLT)
Here is a video that gives a bit of a hint:
Trailer from upcoming film produced by Phil Robertson
Let me list the issues facing us:
The future of marriage
Disintegration of families
The loss of our children
The moral and sexual revolution taking place all around us
Gender identity
The use of public bathrooms
The increasing a-morality and immorality of the media
The on-going promotion of the culture of death via unrestricted abortion on demand coupled with calls for euthanasia and the devaluing of human life.
The rapid rise of atheism
Increasing infringements on religious liberties and religious freedom
A rapidly growing anti-Christian bias that is infiltrating all segments of our society
The freedom to bear arms
The very nature of citizenship and the unstable flow in immigration
The disintegration of our educational system
What appears to be a continuing economic melt-down – an untenable economic position.
The rise of false-spiritualities; fake religions; designer faiths
The challenge of militant Islam
The loss of biblical knowledge and convictions
A Presidential election that befuddles us all
But today…
Today, we will not look ahead.  We will look back.  We will remember.
It's Memorial Day and we want to look back for a moment.
If we lose our roots, we will have no future.
Marcus Garvey:  A people without the knowledge of their past history, origin and culture is like a tree without roots.
Throughout the Bible, there is the theme of heritage.
5 O Lord, You are the portion of my inheritance and my cup; You maintain my lot.  6 The lines have fallen to me in pleasant places; Yes, I have a good inheritance.  Psalm 16:5-6 (NKJV)
1 O my people, listen to my instructions.  Open your ears to what I am saying, for I will speak to you in a parable.  I will teach you hidden lessons from our past— 3 stories we have heard and known, stories our ancestors handed down to us.  4 We will not hide these truths from our children; we will tell the next generation about the glorious deeds of the Lord, about his power and his mighty wonders.  Psalm 78:1-4 (NLT)
Let's look at the foundations of our nation – of our culture.
Here are some promises to our nation:
Blessed is the nation whose God is the Lord, the people He has chosen as His own inheritance.  Psalm 33:12 (NKJV)
 if my people who are called by my name humble themselves, and pray and seek my face and turn from their wicked ways, then I will hear from heaven and will forgive their sin and heal their land.  II Chronicles 7:14 (ESV)
if the foundations are destroyed, what can the righteous do?"  Psalm 11:3 (ESV)
John Adams video
Disc 1 of the John Adams miniseries
Part 2.  Independence
We pick it up as our Founding Fathers consider a Declaration of Independence.  John Dickinson from Pennsylvania makes an impassioned plea to not break free from Britain.  Then John Adams responds.
Markers:    1:10:38 to 1:15:15
"While I live, let me have a country…a free country!"
Our Constitution was made only for a moral and religious people. It is wholly inadequate to the government of any other. John Adams
"Posterity! You will never know how much it cost the present Generation to preserve your Freedom! I hope you will make good use of it. If you do not, I shall repent in Heaven, that I ever took half the Pains to preserve it."
– John Adams
Henry Johnson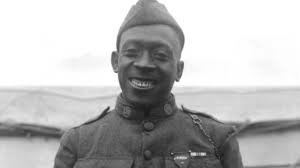 Henry Johnson was the most famous member of the "Harlem Hellfighters," an all-black National Guard unit that was among the first American forces to arrive in Europe during World War I. Johnson and his fellow African American soldiers spent their early days in the war performing unskilled manual labor before being sent to reinforce the depleted ranks of the French army.
On May 14, 1918, Johnson and another "Hellfighter" named Needham Roberts were serving sentry duty in the Argonne Forest. Just after 2 a.m. the duo was attacked by a detachment of some 20 German troops. Both men had soon been wounded—Roberts so severely that he was unable to stand or shoot—but Johnson held fast and fought back with hand grenades and his rifle. Despite being shot several times, he returned fire until his weapon jammed, and then used it as a club and fought hand to hand until it broke into pieces. When Johnson saw that the Germans were trying to take Roberts prisoner, he drew his one remaining weapon—a bolo knife—and slashed and stabbed several men until the raiding party finally fell back. When the dust cleared, Johnson had inflicted at least a dozen casualties on the Germans and suffered 21 wounds from gunfire and bayonets. Both he and Roberts were later given the Croix de Guerre—one of France's highest military honors—but Johnson's heroic stand went unrewarded in the United States until 1996, when he was posthumously awarded the Purple Heart. He later received the distinguished Service Cross in 2003.
Frank Luke
Renegade pilot Frank Luke was America's greatest "balloon buster," the nickname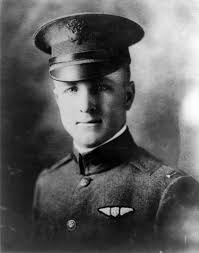 assigned to the brash aviators who attacked German observation balloons used to sight artillery. Luke joined the 27th Aero Squadron in France in July 1918, and wasted little time in aggravating his fellow pilots with his cocky attitude and reckless flying style. Nevertheless, the Arizona-born aviator proved an expert at downing the reconnaissance balloons—dangerous targets that were often guarded by anti-aircraft guns, cannons and enemy fighters. He scored his first kill on September 12, and by September 28 he had claimed 15 victories, including one day in which he shot down two balloons and three enemy planes.
Despite his obvious skill, the headstrong Luke often flouted military regulations and disobeyed orders. His commanding officer tried to ground him on September 29, but Luke ignored the command and took off on a daring solo balloon-busting mission near Murvaux, France. He proceeded to destroy three balloons in quick succession, but was seriously wounded by machine gun fire and forced to ditch his plane near a creek. After climbing from the wreckage, Luke drew his pistol and may have exchanged a few shots with German troops before succumbing to his injuries. By then, the 21-year-old had claimed a remarkable 18 aerial victories in the span of only 18 days. He later became the first ever pilot to receive the Medal of Honor.
Alvin York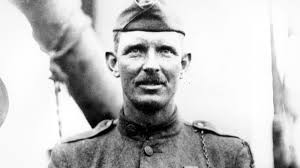 Sergeant Alvin York was once described as World War I's "greatest civilian soldier," yet he began the conflict as a conscientious objector. A deeply devout man from the small mountain town of Pall Mall, Tennessee, York initially resisted serving on the grounds that violence was against his religion. His request was denied, however, and in May 1918 he arrived in France along with the 82nd Division of the U.S. Army.
York would make his name on October 8, 1918 in a famous incident during the Meuse-Argonne offensive. He and around 17 other Americans had just captured troops from a German regiment when they found themselves under heavy fire from enemy machine guns. Nine of the Americans were quickly wounded or killed, but York—a crack shot from his days as a turkey hunter—escaped unscathed and began picking off the German gunners with his rifle. When six of the enemy tried to charge York with bayonets, he drew his .45 pistol and shot them all. He had soon forced the remaining Germans to surrender, and later claimed even more prisoners on his way back to the American lines. All told, York and his men captured 132 enemy soldiers, and he may have singlehandedly killed around 20 German troops. For his efforts, he was awarded the Medal of Honor, the Distinguished Service Cross and several other citations for bravery. Shunning the spotlight, the reluctant soldier returned to his home in Tennessee after the war and took up farming. He later worked to introduce new schools to his mountain community.
Make America Great Again.
MORAL Convictions
12 In fact, though by this time you ought to be teachers, you need someone to teach you the elementary truths of God's word all over again. You need milk, not solid food! 13 Anyone who lives on milk, being still an infant, is not acquainted with the teaching about righteousness. 14 But solid food is for the mature, who by constant use have trained themselves to distinguish good from evil.  Hebrews 5:12-14 (NIV)
SPIRITUAL Certainty
But in your hearts revere Christ as Lord. Always be prepared to give an answer to everyone who asks you to give the reason for the hope that you have. But do this with gentleness and respect,  I Peter 3:15 (NIV)
New-found HUMILITY
35 But love your enemies, do good, and lend, hoping for nothing in return; and your reward will be great, and you will be sons of the Most High. For He is kind to the unthankful and evil. 36 Therefore be merciful, just as your Father also is merciful.  Luke 6:35-36 (NKJV)
37 "Judge not, and you shall not be judged. Condemn not, and you shall not be condemned. Forgive, and you will be forgiven. 38 Give, and it will be given to you: good measure, pressed down, shaken together, and running over will be put into your bosom. For with the same measure that you use, it will be measured back to you."  Luke 6:37-38 (NKJV)
Or how can you say to your brother, 'Brother, let me remove the speck that is in your eye,' when you yourself do not see the plank that is in your own eye? Hypocrite! First remove the plank from your own eye, and then you will see clearly to remove the speck that is in your brother's eye.  Luke 6:42 (NKJV)
HOPE
A Future to Believe In
1 Come, and let us return to the Lord; for He has torn, but He will heal us; He has stricken, but He will bind us up.  2 After two days He will revive us; on the third day He will raise us up, that we may live in His sight.  3 Let us know, let us pursue the knowledge of the Lord.  His going forth is established as the morning; He will come to us like the rain, like the latter and former rain to the earth. Hosea 6:1-3 (NKJV)