March 31. Reading and Leading Up to Easter. John chapter 6.
Friday, March 31                  John 6
Feeding and Following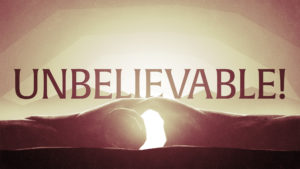 Every time Jesus did something miraculous, He backed it up with sound, solid teaching.  He was never satisfied with mere fervency and excitement – enjoyable as that can be.  He never settled for fireworks.  He used these SIGNS to point the way to a permanently better life. 
Perhaps His most massive miracle of all is the feeding of the 5,000.  Miracles of healing directly affected only one or two people (usually with a small crowd looking on).  But 5,000!  Actually, John tells us there were 5,000 men.  If wives and children came along, this crowd could have easily been 15-20 thousand!
No wonder they wanted to make Him king (John 6:15).
On the heels of this huge success, Jesus speaks some of His hardest words.  He cut to the heart.  He spoke such demanding words ("eat my body and drink my blood") that many fell away.
Remember, Jesus is not out to win a popularity contest.  He is not fawning over your favors.  He is the Lord!  He blesses us out of His love and grace.  But He bids us come and follow Him.  The food is great, but that's not really why we follow.  He wants you and me to make a life-long commitment to walk with Him even if no one else will.