A NATION IN THE BALANCE:
"We Hold These Truths…"
Sunday, June 26, 2016
Dr. Robert W. Clanton
The second paragraph of the Declaration of Independence begins with these words: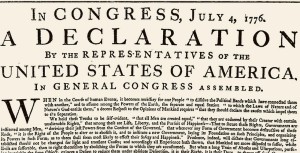 We hold these truths to be self-evident, that all men are created equal, that they are endowed by their Creator with certain unalienable Rights, that among these are Life, Liberty and the pursuit of Happiness.—
A similar sentiment was voiced 87 years later (four score and seven years) by Abraham Lincoln in the Gettysburg Address:
Four score and seven years ago our fathers brought forth on this continent a new nation, conceived in liberty, and dedicated to the proposition that all men are created equal.
EQUALITY!
CREATED EQUAL.
Worldview: "CREATED"
Value: "EQUAL"
The three words of the French Revolution were LIBERTY, EQUALITY, and FRATERNITY.
Equality built on a Christian worldview is liberating.
Equality built on a secular worldview is confusion.
For decades now, there has been a battle over equality.  For nearly all of it, I have to say YES.  But things have now taken a different turn.
So, what are we to do?  We are hurdling headlong toward a cliff.  The earth is moving under our feet.  What are we to do?
WE HOLD THESE TRUTHS!
24 Do you not know that in a race all the runners run, but only one receives the prize? So run that you may obtain it. 25 Every athlete exercises self-control in all things. They do it to receive a perishable wreath, but we an imperishable. 26 So I do not run aimlessly; I do not box as one beating the air. 27 But I discipline my body and keep it under control, lest after preaching to others I myself should be disqualified. I Corinthians 9:24-27 (ESV)
What kind of race are we called to run?
It is a family race
A faith race
A kingdom of God race
A truth race
14 I am writing these things to you, hoping to come to you before long; 15 but in case I am delayed, I write so that you will know how one ought to conduct himself in the household of God, which is the church of the living God, the pillar and support of the truth. I Timothy 3:14-15 (NASB)
14 Justice is turned back, and righteousness stands afar off; for truth is fallen in the street, and equity cannot enter.  15 So truth fails, and he who departs from evil makes himself a prey.  Then the Lord saw it, and it displeased Him that there was no justice. Isaiah 59:14-15 (NKJV)
For the wrath of God is revealed from heaven against all ungodliness and unrighteousness of men, who by their unrighteousness suppress the truth.  Romans 1:18 (ESV)
It will require resolve and the strongest kind of courage.
The Truth Race requires COURAGE
An event happened just this past week.  I will introduce you to this man: David Thatcher.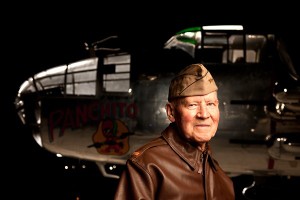 He died at the age of 94.  He was part of one of the most amazing and heroic stories in American military history.  He was a crew member of a plane nicknamed the Ruptured Duck – one of the sixteen planes that took part in the Doolittle Raid on Japan Saturday, April 18, 1942.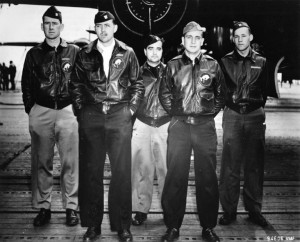 Here is a picture of him along with his crew.  He's the one on the far right.  He was 20 years old.  Major Ted Lawson, his pilot is second from the left.
We watched the Pearl Harbor movie and saw the faces of Ben Affleck and Josh Hartnett but these are the real men who did something that most had called impossible.  Hirohito had declared his nation of Japan untouchable – un-attackable.  Here's the story: they had to take off from a carrier 650 miles off the Japanese coast, but they would not be able to return.  Fuel and distance meant they had to try to make it over into the Chinese mainland. Several went down in the South China Sea.  The Ruptured Duck was one of them as it approached the Chinese beach.  It's wing clipped a wave and the plane flipped literally throwing the crewmen onto the beach.  All we injured so severely they couldn't walk except for David Thatcher who had been in the rear of the plane.  Along with Chinese fishermen, he carried his crewmen to safety.
COURAGE! 
The set-up for this story was a bigger story of our nation.  The fortitude to withstand attack and fight for truth.
Pearl Harbor video:
13 Be on guard. Stand firm in the faith. Be courageous.  Be strong. 14 And do everything with love.  I Corinthians 16:13-14 (NLT)
The Truth Race requires WISDOM
In the past weeks, we have been looking at our nation.  These are important days.  Historic shifts are under way.  It seems with each step, though small in itself, we are inching toward a precipice.  We are with each event of each week witnessing new and increasing shocks and embarrassments, atrocities and insults, heartbreaks and headaches.
As biblical Christians we are being told to just get over it and get used to it.  We are told that we are on the wrong side of history and we must face facts.  The world has changed and we are crying over spilt milk.  Pandora's box has been opened releasing a host of evils and there is no way to get them back in the box – no way to turn back the calendar.
So what are we to do?  We need wisdom when it comes to the issues we face!
Let me list the issues facing us:
The future of marriage
Disintegration of families
The loss of our children
The moral and sexual revolution taking place all around us
Gender identity
The use of public bathrooms
The increasing a-morality and immorality of the media
The on-going promotion of the culture of death via unrestricted abortion on demand coupled with calls for euthanasia and the devaluing of human life.
The rapid rise of atheism
Increasing infringements on religious liberties and religious freedom
A rapidly growing anti-Christian bias that is infiltrating all segments of our society
The freedom to bear arms
The very nature of citizenship and the unstable flow in immigration
The disintegration of our educational system
What appears to be a continuing economic melt-down – an untenable economic position.
The rise of false-spiritualities; fake religions; designer faiths
The challenge of militant Islam and terrorism
The loss of biblical knowledge and convictions
A Presidential election that befuddles us all
If any of you lacks wisdom, let him ask God, who gives generously to all without reproach, and it will be given him. James 1:15 (ESV)
OPTIONS:
Strict Party Line. BLIND ALLEGIANCE.
Lesser of Two Evils PRAGMATIC
Most Important Issue MAJOR ON THE MAJORS
Conscience/Ideological                         DISENGAGED PURIST
Withdrawal.  The entire system is bad.  RETREAT
The Truth Race requires the POWER of GOD
Chariots of Fire
Eric Liddell had to take a stand in 1924.  Actually he had to take two stands.  He was born to Chinese missionaries and knew that his future was to serve God in China, but despite the persistent resistance of his sister Jenny, he also knew that he needed to run in the Olympics.  Then when he arrived, he found that his top event, the 100 meter run, was taking place on Sunday.  He felt he could not run on Sunday because of his convictions.  The pressure was intense from both sides: from Jenny NOT to run and from the nation of England TO run.
He opted to run in the 400 meter a few days later.
"So where does the power come from to run the race to the end?  From within."  From the power of God working in our hearts.
He said "God made me for a purpose."  "When I run, I feel His pleasure."
Notice in the race, he had the outside lane.  Because of the way the track is laid out, the outside lane doesn't see his opponents at first.  Because of this, the outside runner can't pace himself from the other runner.  Eric Liddell said he treated the entire race as a sprint.  In so doing, he set the world's record that day for the 400 meter run and he won the gold medal.
A year after the Olympics, Liddell returned to China where he served all the way up to WWII.  Because he refused to evacuate with other British residents, he was ultimately imprisoned and died a few days prior to the end of WWII.
Just prior to his 1924 race, and American runner named Jackson Scholz walked up to him and handed him a note.
for those who honor me I will honor.  I Samuel 2:30